We work to make the AI more ethical and socially acceptable with help of WOMENPOWER
We are driven by our passion for gender-equality and for technology
VISION AND MISSION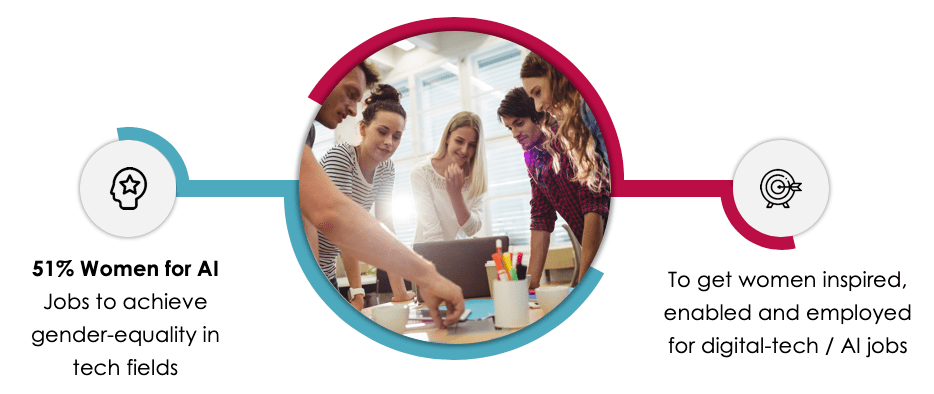 Our Core Principles
Equality
Eradicating discrimination based on gender, ethnic origin, belief, social background, skin color, etc. We should eliminate gender-bias / stereotyping from the minds of future generations.
Social Mobility
Everyone should have the opportunity to grow their career and as a result, their social status. We believe that women should not be obliged to choose between family and a career.
AI / Digital focus
We think that women have superb built-in skills needed for the digital and technical job and in order to progress in digital technology, women need to be equally represented in the workplace. Due to gender-imbalance in AI ( currently 18% female), we focus on enabling and employing women for AI jobs.This is a feature description, to be used in the description box.
WE CARE FOR GENDER-EQUALITY IN TECH
We analyze the needs of women, especially mums who want to build a successful career that combines family commitments.

​We advise technical employers how to implement impactful measures for gender equality, women/ family friendly organizations and how to attract and retain Women in Tech.
OUR SERVICES ARE PLANNED UNDER 3 MAIN PROGRAMS
WAIA offers a wide range of services covering different needs in the AI world including educational and career-related services to women and also recruitment and auditing related service functions which work as a bridge between employers and talented motivated women.
Learning Programs (Digital Learning Circles)
Employment Programs
Consulting Programs
We are all Ethical AI Enthusiats!
Naz Cilo-van Norel studied Electronics Engineering and Political Science. She worked more than 30 years for big engineering projects around the world. She founded the Women AI Academy to change the status-quo for WOMEN IN TECH and humanise the AI with WOMENPOWER. For this she started impact projects such as WOMEN AI Academy and ETHICAL AI Training and Consulting. For Ethical AI she is working with IEEE SA to support the Ethical AI Certification Program.
Naz Cilo-van Norel
Founder and Chief Inspiration Officer
Swantje studied business administration in Hamburg and worked in asset management for a large international bank for several years. During her studies, she focused on human resources and law.After further studies to become a teacher, Swantje worked for a number of years as a teacher with a focus on immigrant children. In addition to teaching, she has supported many children from educationally disadvantaged families in obtaining a qualified school certificate and offered job application training.
Swantje Fojuth
Head of the Academy

Erum Afzal is pursuing a PhD degree in Robotics and Intelligent Machine Engineering. Previously she has a MS in Information Technology. She is passionate about providing quality education in Artificial Intelligence, Data Science, and Machine and delivered many courses, workshops and talks on Data sciences and Machine Learning at various international venues.
She is also a Mentor, Speaker and a Trainer and has been associated with renowned Organisations including Women AI Academy, ETHOS AI, Women Who Code, Omdena and Neuro Match Academy(NMA).
Erum Afzal
Curriculum Manager

WE SPEAK YOUR LANGUAGE
Your career as a Data Scientist starts with you joining the Women AI Academy. So, take the first step toward a gratifying career today; your only regret will be not beginning sooner!
We will offer the main content in English. However, our moderators, experts speak also German and Portuguese learners can ask questions in German and Portuguese too if they need help. Our goal is to help learners so that they understand and learn the skills which they need for their new dreams.
For German learners: if you think that your English is not sufficient to join the program-B2 level in English sufficient to understand and follow the English contents. And you will also have the possibility to practice & improve your English in the program. Don't try to be a perfectionist to postpone your dreams!
Each Learning Circle is guided by a moderator and expert/mentor and meets online.
Begin Working Toward Your Dream Job
Yes, we are all concerned with AI. It has risks and opportunities. It depens on our engagement what we do. Let's start and learn it together.
Whether you're taking a leap into a totally new career path or you're just looking to brush up on your existing skills; choosing the RIGHT program is the key to your success!
We know your time is incredibly valuable, so we've done the difficult work of comprising the most important information you need to be a successful Data Scientist and put it together in one easy-to-use program.
PLUS, with the added bonus of having REAL mentors and Data Scientists by your side, you can rest assured that your questions will be answered and our team of experts will be there to hold your hand every step of the way!
STILL ON THE FENCE ABOUT JOINING?
Choose this option to enjoy our free membership and participate in a Free Webinar:
Plus, get access to our blog and free digital learning circles
Absolutely NO credit card required and NO strings attached!Our digital learning circles are at the core of our students' success and provide an unmatched level of support that simply can't be found with other programs. Meet your fellow students, ask questions, and learn the skills your mentors used to secure their dream jobs."
DIGITAL LEARNING CIRCLES (DLC)-METHOD
To support our community we also offer Free webinars to build the core skills required by employers. Our solution partners and best-practice owners are selected carefully and monitored continuously for performance and quality.
Weekly Learning Sessions
Real-time sessions with help of mentors and experts using an online platform
Unlimited Support
Never feel alone and stuck: Slack groups to communicate and collaborate 24/7 between peers and DLC experts and mentors
AI Jobs
G
et first hands information about opportunities from AI Employers
Access to AI Library
Including Courses, Video tutorials, eBooks, Articles
Women AI Community
Like-minded learners from all over the world interacting with AI experts, mentors and influencers
Soft & Hard Skills
Learn both skills with proven and in house methods with experts and mentors at the same time work on your portfolios
Download Syllabus
According to your requirement
or
Sign-in required
Already have an account?
Don't have an account?
Prof.Ali Hessami
Ali Hessami is currently the Director of R&D and Innovation at Vega Systems, London, UK. He has an extensive track record in systems assurance and safety, security, sustainability, knowledge assessment/management methodologies. He has a background in the design and development of advanced control systems for business and safety-critical industrial applications. Hessami represents the UK on the European Committee for Electrotechnical Standardization (CENELEC) & International Electrotechnical Commission (IEC) – safety systems, hardware & software standards committees. He was appointed by CENELEC as convener of several Working Groups for review of EN50128 Safety-Critical Software Standard and update and restructuring of the software, hardware, and system safety standards in CENELEC.

Ali is also a member of Cyber Security Standardisation SGA16, SG24, and WG26 Groups and started and chairs the IEEE Special Interest Group in Humanitarian Technologies and the Systems Council Chapters in the UK and Ireland Section. In 2017 Ali joined the IEEE Standards Association (SA), initially as a committee member for the new landmark IEEE 7000 standard focused on "Addressing Ethical Concerns in System Design." He was subsequently appointed as the Technical Editor and later the Chair of P7000 working group. In November 2018, he was appointed as the VC and Process Architect of the IEEE's global Ethics Certification Programme for Autonomous & Intelligent Systems (ECPAIS).
Created with