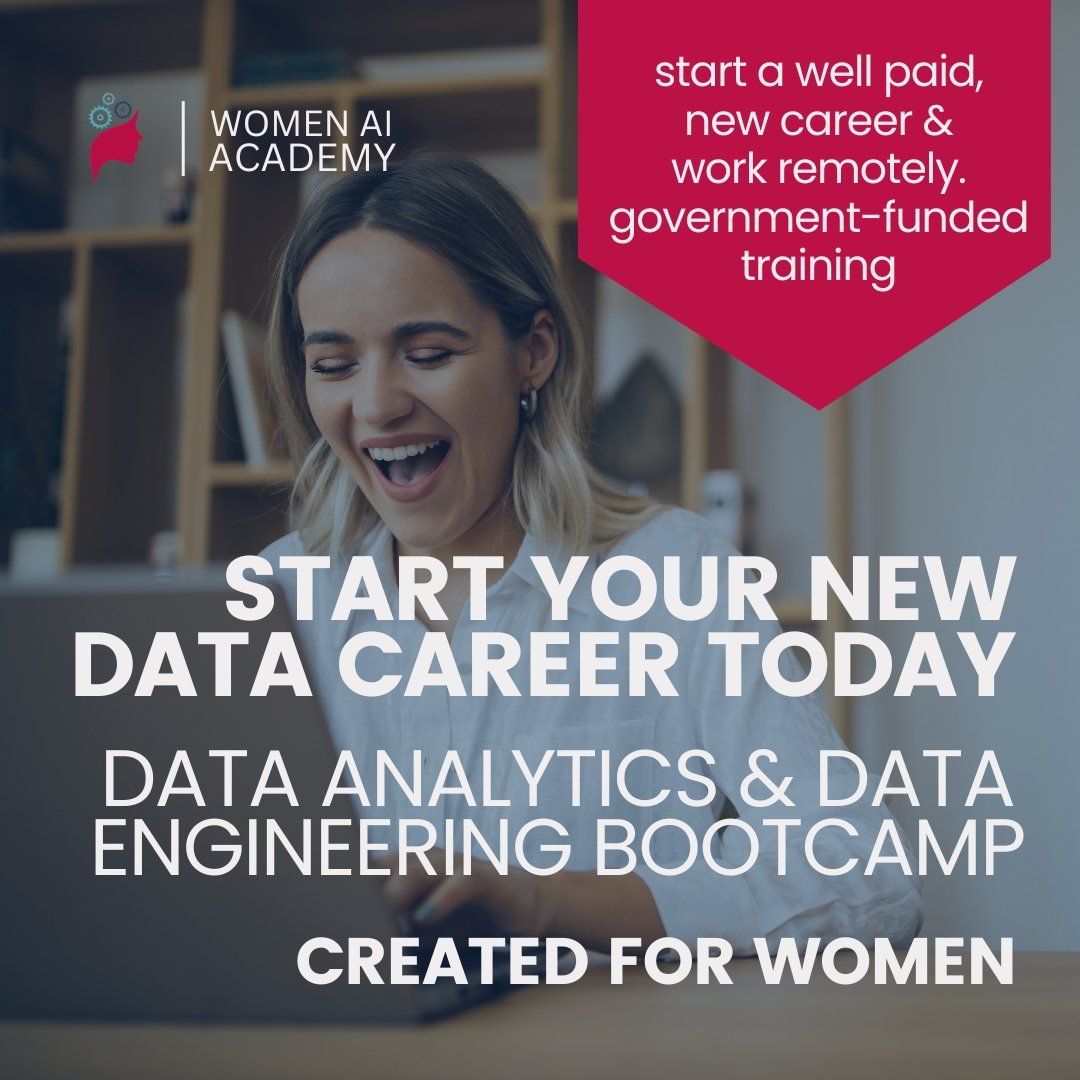 BECOME A

DATA ANALYST/DATA ENGINEER
Next bootcamp details:
Feb24
Batch: 05.02.2024-22.07.2024
Jun24 Batch: 03.06.2024-18.11.2024
Half-day 09:00-12:30, every day for 24 weeks.
Payment for residents in Germany: can be financed by job center via "Bildungsgutschein"
Payment for international students: get 50% off and pay the rest in installments in 6 months
STEP INTO YOUR
FUTURE TODAY
WITH WAIA
The Women AI Academy was founded by women for women. We strive to empower our students, enabling them to achieve success in the tech industry while also redefining it with the vision of "51% Women for AI Jobs.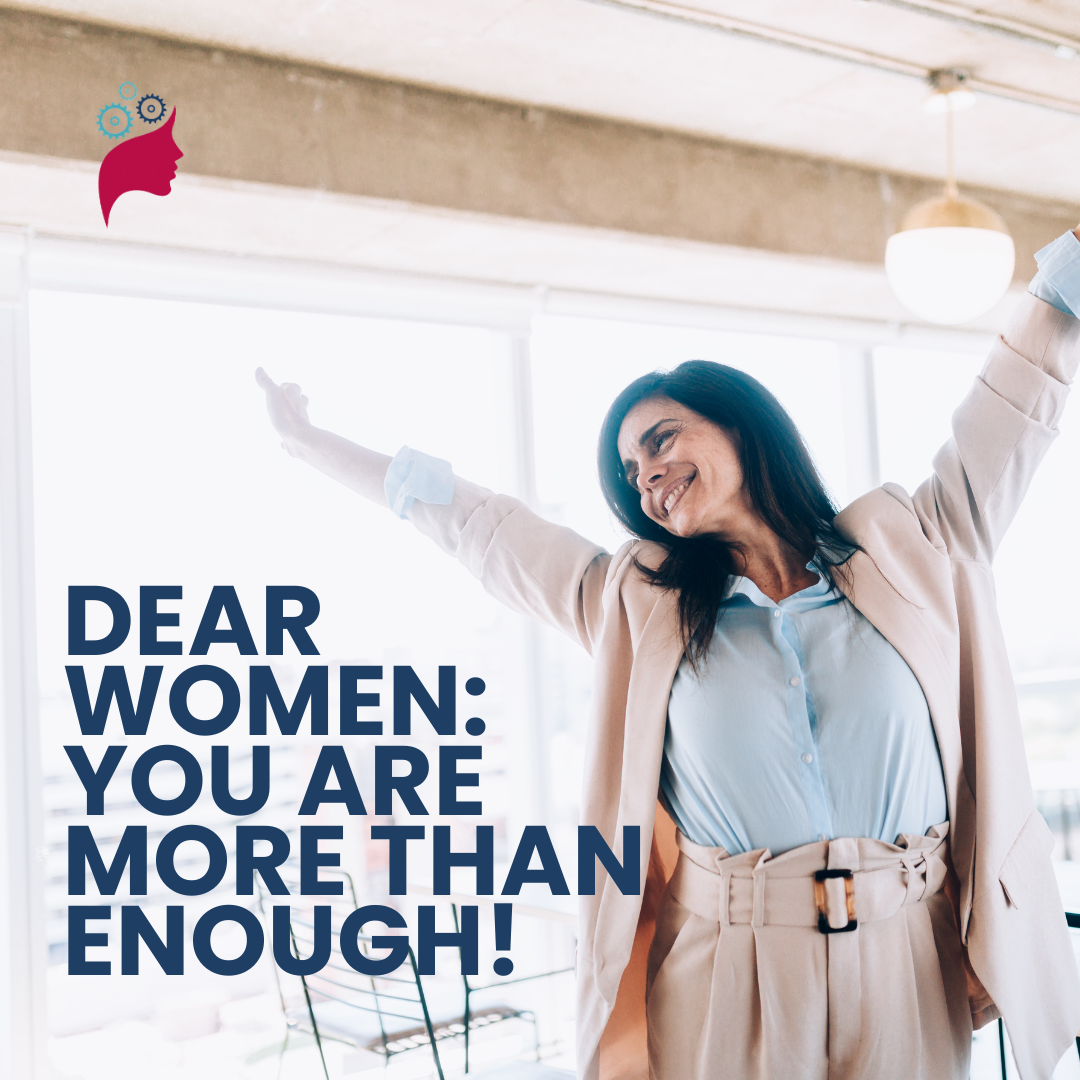 OUR

ONLINE LIVE DATA BOOTCAMP

Join our live online, career-focused data bootcamps specifically designed for women and learn the skills to qualify as a professional Data Analyst/Engineer in just 14-24 weeks. We are here with you at every step from financing your education with Bildungsgutschein, to interview prep.

We have already walked the path and are committed to guiding you through it as well. Join us at Women AI Academy and let us help you navigate the path to success. We're Changing Lives and Powering the Future Through WomenPower.
Your Journey
to Mastery: Our Tailored Curriculum
Our program is crafted for absolute beginners, guiding you through the essentials of computer science, math, and statistics before delving into more complex topics. Here's what our comprehensive curriculum offers:
From basic syntax to advanced data analysis techniques.
Data Analysis and Visualization
Develop skills in interpreting and visualizing data using Pandas, Matplotlib, and Seaborn.
Build a solid base in key statistical concepts.
Learn SQL for effective data handling.
Ethical AI and Data Privacy
Navigate the critical aspects of ethical AI use.
Tackle real-world challenges to reinforce your learning.
Receive extensive support in personal branding, resume building, interview prep, and job search strategies.
Embark on a transformative learning experience that paves your way to becoming a data analytics professional.
Empowering
Your Career Path:
Our Commitment to Employment
At Women AI Academy, our support extends beyond the classroom to your career aspirations. Here's how we empower your employment journey:
Exclusive Platform Access
Your profile will feature on
EthicalDataQueens.com
, our innovative platform designed to solve recruitment challenges for women entering tech.
Comprehensive Career Workshops
Benefit from expert coaching in personal branding, resume crafting, LinkedIn profile enhancement, portfolio development, interview skills, and networking, all tailored for women new to tech.
Tap into our vast network for internships and job opportunities.
Learn from the experiences of our successful alumni in the tech sector.
Receive ongoing support from our mentors, aiding your career decisions and growth even after course completion.
Prerequisites:
Starting Your Data Journey
Comfort with using a computer and internet navigation.
A reliable computer capable of running the necessary software for data analysis.
Stable Internet Connection
To participate in online sessions and access learning materials.
Ability to understand and communicate effectively in English.
A passion for learning about data and technology.
No programming or data analytics background is required; we're here to guide you from the basics to a professional level.
Securing a
Bildungsgutschein:
Your Guide with Our Support
To obtain a Bildungsgutschein for our program, here's what you need to do, with our full support along the way: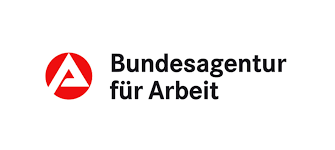 Confirm you meet the German Employment Agency or Jobcenter criteria.
Arrange a meeting with your advisor to discuss our bootcamp.
We provide recommendation letters, motivation letters, and any necessary documents to support your application.
Apply with the provided documents.
The Employment Agency processes and approves your Bildungsgutschein, covering the training cost.
We're here to help with each step, ensuring a smooth application process.
Sarah Haq
Head of Bootcamp
Instructor,
Machine Learning Engineering Expert
Sarah Haq is a Computer Science and Creative Computing Lecturer at Leuphana University
- Sarah has over ten years of experience working with data and building machine-learning models for various startups, from underwear companies to unicorns.
She was previously a Senior Machine Learning Engineer at the world's largest online art marketplace, Artsy, where she shaped the personalisation strategy and built a recommendation engine to connect collectors with artworks they truly loved.
- Sarah completed her studies in Mathematics and Economics at the London School of Economics.
Erum Afzal
Consultant & Mentor,
Artificial Intelligence Expert
Erum is a Ph.D. scholar specializing in AI tools for teacher training at Justus Liebig University, Germany, with a strong background in Information and Computational Technology.
Beyond academia, she is a mentor and speaker, passionate about educating in AI, Data Science, and Machine Learning. Her collaborations with esteemed organizations like Women AI Academy, ETHOS AI, Women Who Code, Omdena, and Neuro Match Academy showcase her commitment to knowledge sharing. Erum's academic pursuits and industry engagement make her a valuable asset, driving innovation in AI and Data Science..
Zubia Khan
Instructor & Mentor,
Data Analytics Expert
Zubia Khan is working as a Data Scientist for multiple business clients. She is teaching UK students at the undergraduate level.
She has more than 4 years of experience working with large volumes of data to perform exploratory data analysis, feature selection, feature extraction, predictive analytics, and model deployment for healthcare and training organisations. She has experience working as a lecturer at the world's best university, Anglia Ruskin University, where she taught undergraduate students Computer Science, specifically cipher challenges in various programming languages. She has completed Computer Science training at the University of Cambridge with the founder of the Raspberry Pi, Alan Mycroft. She is currently pursuing a master's degree in Artificial Intelligence from the world's top 100 university, the University of York.
Shailvi Maheshwari
Instructor,
Data Visualisation Expert
With over 4 years of extensive experience in Data Analytics, Shailvi is a seasoned professional. She is proficient in Microsoft Power BI, Tableau, Microsoft Excel, SQL, and Google Data Analytics and has a comprehensive understanding of the industry's intricacies.
Known for her passion for teaching, Shailvi has been guiding students at WAIA for the past year. She firmly believes that practical application is the key to effective learning and thus focuses on hands-on experience rather than a theoretical approach.
Approachable and dedicated, Shailvi actively encourages students to ask challenging questions, promising to assist them every step of the way. Her commitment to clarifying doubts and queries ensures that students are constantly supported throughout their learning journey.


In her classes, you can expect to gain a strong understanding of fundamental concepts and master the art of creating interactive portfolio reports across various domains.
Salma Aziz
Instructor & Mentor,
Machine Learning Expert
Drawing from her international journey and data science expertise, Salma dedicates herself to mentoring and teaching, blending practical experience with academic wisdom to inspire future data enthusiasts
Salma embarked on her academic path with a strong base in Mathematics and Physics, which led to an Engineer Diploma in Statistics and Applied Economics. She then earned a Master's in Data Science. Alongside her core studies, Salma also undertook an innovative Student-Entrepreneur program. She holds a fervent belief: in the vast world of data, every pattern tells a story, and every analysis reveals a new insight. Salma's goal extends beyond mere instruction; she aims to spark a quest among learners to decode these stories, driving them toward impactful decisions.
How We Teach:
A Blend of Innovation, Interaction, and Impact
At Women AI Academy, we believe in a teaching methodology that's as dynamic as the field of data science itself. Our approach is a blend of:
Engaging live sessions and hands-on projects that ensure active participation and practical application of concepts.
Small class sizes for individualized mentorship, catering to each student's unique learning journey.
Case studies and real-data exercises to bridge the gap between theory and practice.
Access to a network of mentors and peers for guidance and collaboration, fostering a strong community of learners.
Flexible Learning Options
Catering to diverse needs with a range of learning formats, from online to hybrid models.
Join us for an educational experience where learning is not just about acquiring knowledge, but about making a tangible impact in your career and the tech world.
BOOK YOUR
FREE 15 MIN
CALL WITH US
Become a Data Analyst/ Data Engineer
Join our next Batch in February 2024 (05.02.2024-22.07.2024). Half-day 09:00-12:30, every day for 24 weeks.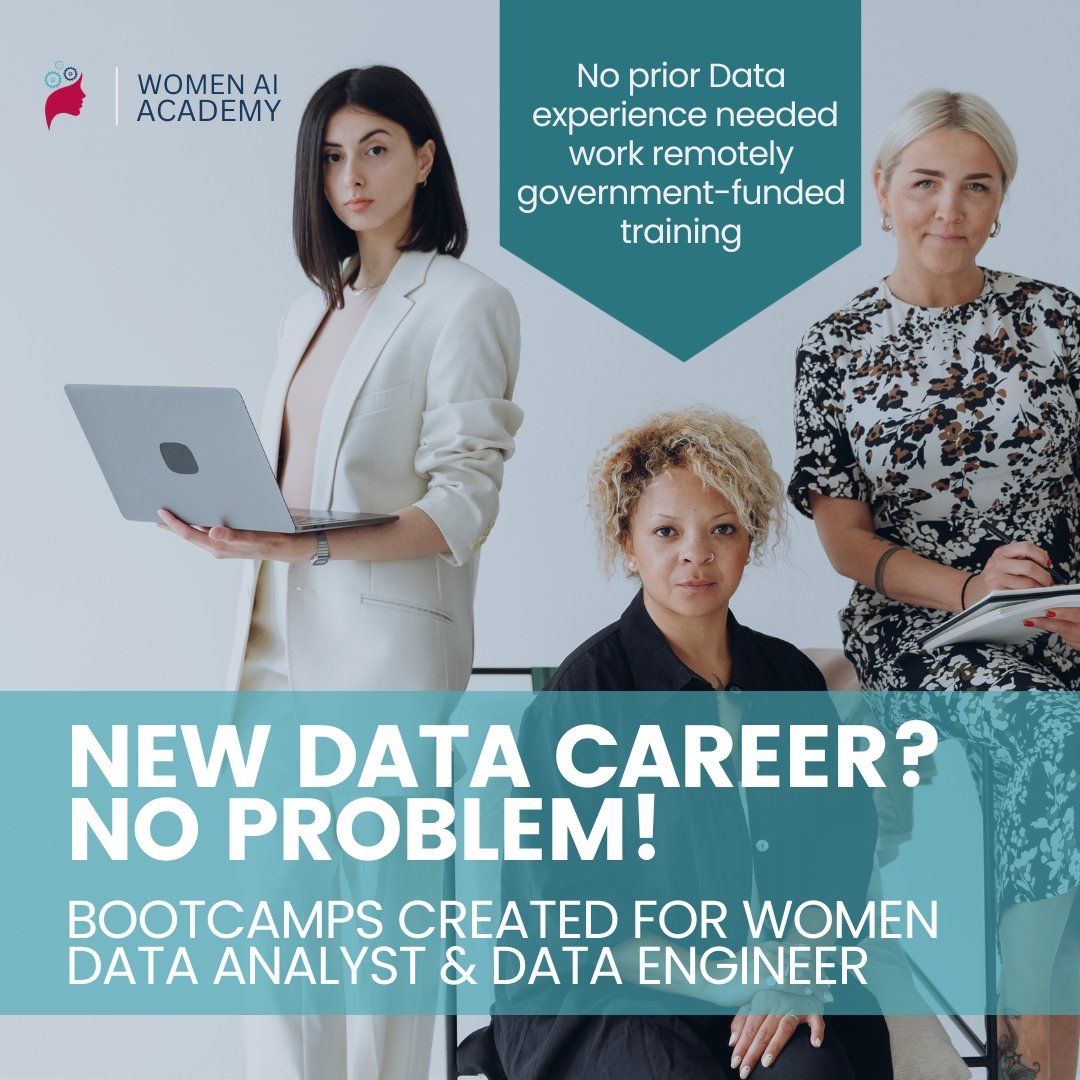 What our learners say about
our bootcamp
Dorothy Kunth
I've been out of the workforce since 2017 due to relocation and starting a family. When my daughter started kindergarten, I searched for ways to upskill/reskill without having to travel.
WAIA understands the challenges faced by women who have time limitations due to family obligations. While my previous experience was limited to small-scale and financial data analysis, I see immense opportunities in the growing digital business landscape and vast volume of data being processed every day.
The program provides clear direction and, at week 15 of the 24-week bootcamp, I have gained confidence and knowledge. The teachers focus on both theory and practical applications, fostering active participation. This will be valuable as I prepare for interviews.
Faith Murahwa
I attended the bootcamp to overcome challenges in my career transition. With theoretical knowledge but lacking practical experience and detailed expertise, I sought a hands-on learning environment that would involve working with real-world data. The bootcamp delivered exactly that!
I highly recommend it for the valuable hands-on training, mentorship, and career coaching sessions it provided. I acquired essential skills in SQL, Python, and Power BI, which have propelled my progress in this field.
The bootcamp also facilitated networking opportunities, leading to collaborations with Omdena and the development of a strong portfolio. The career mentors not only helped rebrand me but also offered crucial guidance in shaping my career trajectory.
Liz Chee
A great program with internship opportunities attached to complement my knowledge and work in the health informatics area.
The collaborative and helpful community alongside the experts in the course to support and encourage each other to learn on amidst the challenges encountered were real value adds.
Natalia Panagiotidou
After a career break due to relocating to Germany, having a second child, and experiencing the pandemic, I saw the Bootcamp as an opportunity to update my technical skills.
Through the WAIA bootcamp, I learned new software tools and technologies, enhancing my technical abilities and adaptability to new concepts.
Sharing the experience with other participants who also faced job breaks in Germany was instrumental in overcoming any feelings of guilt and provided the motivation to move forward.


Emotionally, I feel more confident and capable of managing family responsibilities, while practically, I have improved my technical skills and kept up with the demanding Bootcamp sessions. Despite occasional errors and incomplete tasks due to time constraints, I am satisfied with my progress and growth throughout the Bootcamp.
CREATE THE CAREER & LIFE YOU WANT WITH WAIA
Join our live online, career-focused data bootcamps specifically designed for women and learn the skills to qualify as a professional Data Analyst/ Engineer in just 14-24 weeks.
YOU DESERVE A BETTER
CAREER & BETTER PAY
Equip yourself with the most demanding skills of the digital world with Women AI Academy for a well deserved career and life upgrade.
Women AI Academy, by women for women.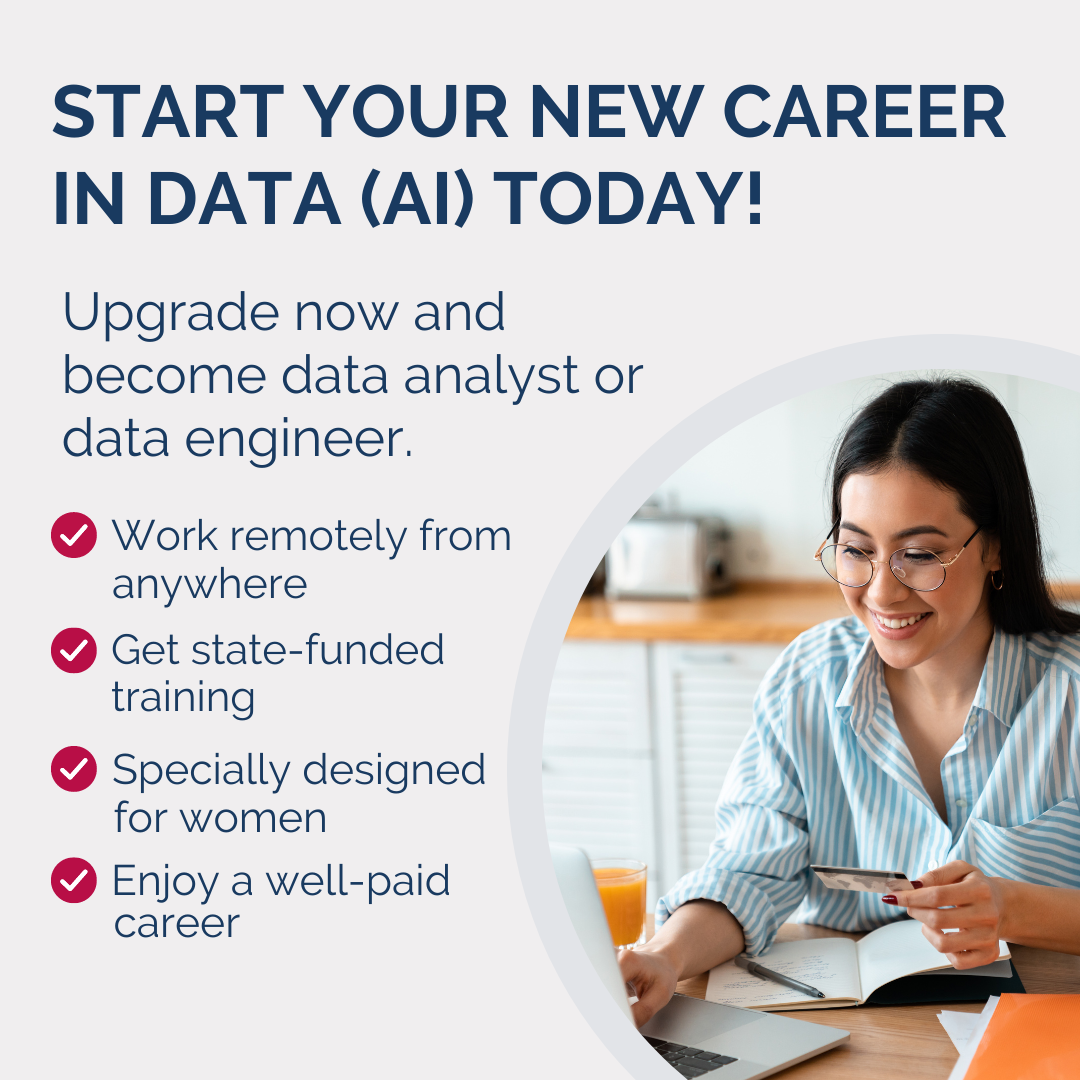 DOWNLOAD OUR
FREE E-BOOK
Become a Data Analyst/ Data Engineer
Everything you need to know to embark on your journey towards a successful and inclusive future in artificial intelligence!
Download Syllabus
According to your requirement
or
Sign-in required
Already have an account?
Don't have an account?
Ali Hessami is currently the Director of R&D and Innovation at Vega Systems, London, UK. He has an extensive track record in systems assurance and safety, security, sustainability, knowledge assessment/management methodologies. He has a background in the design and development of advanced control systems for business and safety-critical industrial applications.
Hessami represents the UK on the European Committee for Electrotechnical Standardization (CENELEC) & International Electrotechnical Commission (IEC) – safety systems, hardware & software standards committees. He was appointed by CENELEC as convener of several Working Groups for review of EN50128 Safety-Critical Software Standard and update and restructuring of the software, hardware, and system safety standards in CENELEC.
Ali is also a member of Cyber Security Standardisation SGA16, SG24, and WG26 Groups and started and chairs the IEEE Special Interest Group in Humanitarian Technologies and the Systems Council Chapters in the UK and Ireland Section. In 2017 Ali joined the IEEE Standards Association (SA), initially as a committee member for the new landmark IEEE 7000 standard focused on "Addressing Ethical Concerns in System Design." He was subsequently appointed as the Technical Editor and later the Chair of P7000 working group. In November 2018, he was appointed as the VC and Process Architect of the IEEE's global Ethics Certification Programme for Autonomous & Intelligent Systems (ECPAIS).
Trish advises and trains organisations internationally on Responsible AI (AI/data ethics, policy, governance), and Corporate Digital Responsibility.
Patricia has 20 years' experience as a lawyer in data, technology and regulatory/government affairs and is a registered Solicitor in England and Wales, and the Republic of Ireland. She has authored and edited several works on law and regulation, policy, ethics, and AI.
She is an expert advisor on the Ethics Committee to the UK's Digital Catapult Machine Intelligence Garage working with AI startups, is a Maestro (a title only given to 3 people in the world) and expert advisor "Maestro" on the IEEE's CertifAIEd (previously known as ECPAIS) ethical certification panel, sits on IEEE's P7003 (algorithmic bias)/P2247.4 (adaptive instructional systems)/P7010.1 (AI and ESG/UN SDGS) standards programmes, is a ForHumanity Fellow working on Independent Audit of AI Systems, is Chair of the Society for Computers and Law, and is a non-exec director on the Board of iTechlaw and on the Board of Women Leading in AI. Until 2021, Patricia was on the RSA's online harms advisory panel, whose work contributed to the UK's Online Safety Bill.
Trish is also a linguist and speaks fluently English, French, and German.
Created with