Ways on how to get started?
The best way is to join in our weekly free info-webinar which we held as a live session and answer your questions too
Join in our weekly info webinar
Every Saturday, at 10:00 am CET
Signup for our weekly newsletter
Get Latest Updates
Schedule a clarification call
Contact for Information
Signup for our Newsletters
As learning freaks, we screen all the time what is happening in the area of AI Skills development and women in tech.
You can sign up and get a snapshot of what we catch up.

VISION AND MISSION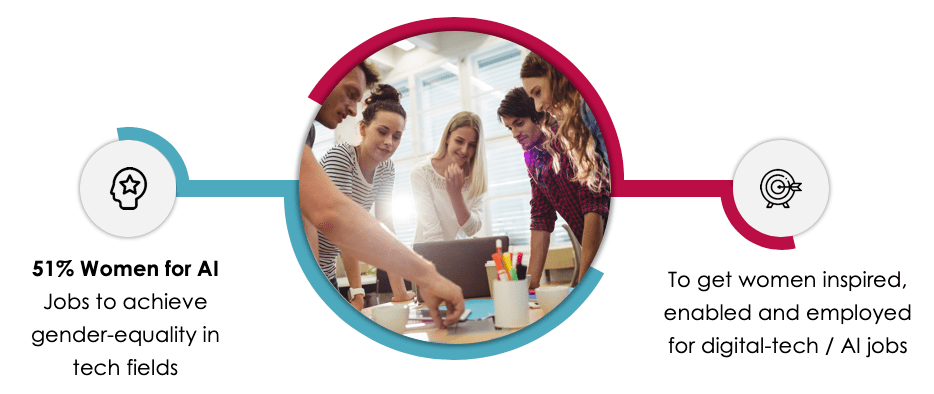 Signup for Info-Webinars
We inform and inspire our community newcomers with our weekly free info-webinars.
If you want to le
arn:
What AI is and why we are all concerned?

How can you learn AI skills too?

How can you find jobs in AI?

How can you find further help?

Q&A session for your i

ndividual questions
​Join us in our live sessions. It is always a good time-investment to get so much valuable information in such a short time.
eBook: Reinvent Your Career in AI/Data Science
In addition to our free info-webinar, we compiled all valuable practical information and lessons learned in this eBook.
Topics:
Why should we all care for AI and why is it different from other techs?

What are the challenges of the current tech world from social perspective?

What is AI and how can you learn it?

How can you find a job in AI?

How can you create bigger social impact as ETHICAL AI Activist?

Yes, we give it for free when you signup for our academy.
(Please note that it will be available by April 2022)
Connect with us on Social Media
We love to connect with you wherever you are
Schedule a call with our Team
Yes, we are aware that journey for women in tech is a long and challenging one. You might have many questions you'd want clarified and get tips on where and how to start. If you ask yourself questions like;
Is the AI / tech right area for me?

can I re-use my current skills?

I don't have any technical / programming background, can I still learn it?

Is it realistic to find a job after 40+ in a new area?

and many more...
Give us feedback
Yes, we love feedback. We want to continuously improve our programs, systems, and people competences.

Therefore we appreciate your feedback which can bring us further.

Of course, you can spread the positive feedback on your personal networks too
Download Syllabus
According to your requirement
or
Sign-in required
Already have an account?
Don't have an account?
Created with